Skipping Karlie Kloss Wedding, Taylor Swift Released Vertical Video For "You Need To Calm Down"
Taylor Swift's relentlessly sunny vertical video for her new single "You Need to Calm Down" is getting shade from members and supporters of the same LGBTQ community the song champions.
The superstar's pitch for GLAAD in the video release for the second song in her new album "Lover" triggered a spike in donations to the advocacy group. And Swift backed her stepped up activism with a surprise performance at the Stonewall Inn to celebrate the 50th anniversary of the New York uprising that launched the fight for Pride equality.
"You Need To Calm Down" Vertical Video
The "Queer" Taylor
Antoni Porowski from "Queer Eye" revealed how extra Taylor Swift was in keeping her new video a secret. "The whole thing was one big celebration of LGBT pride, with Swift hanging out in a trailer park surrounded by a bunch of celebrities, including her BFF Todrick Hall and, surprisingly, Katy Perry."
Speaking to Yahoo, Porowski explained that none of the people in the video even heard the song — they could just hear a snippet through an earpiece.
This isn't the first time Swift has deployed extremely covert tactics to prevent her music from being spoiled or leaked.
Taylor Swift New Cat
Snake Queen has applied to trademark her new cat.
Taylor Swift adopted Benjamin Button after he appeared in her ME! video earlier this year and she's now applied for the rights to his name, after previously doing so for her other feline friends, Meredith Grey and Olivia Benson.
The 29-year-old star has applied for the trademark 'Meredith, Olivia & Benjamin Swift,' which would allow her to use the name for various merchandise, including clothing, phone accessories, toys, luggage, home furnishings, key rings, arts and craft kits, glassware, ornaments and coloring books, according to documents.
Taylor Swift Karlie Kloss Wedding
Karlie Kloss and Joshua Kushner just celebrated their marriage this weekend in Wyoming with close family and friends, and guess who wasn't present? – none other Taylor Swift.
Karlie Kloss and Joshua Kushner had a second celebration of their marriage this weekend in Wyoming, eight months after they tied the knot in a small ceremony in upstate New York. And plenty of celebs were in attendance like Katy Perry, Orlando Bloom, and Derek Blasberg.
Taylor Swift, who's known as Karlie's longtime bestie, had also not attended her first wedding in October due to a scheduling conflict. Which obviously resparked those feud rumors because Taylor also missed Karlie's first wedding in October due to a "scheduling conflict."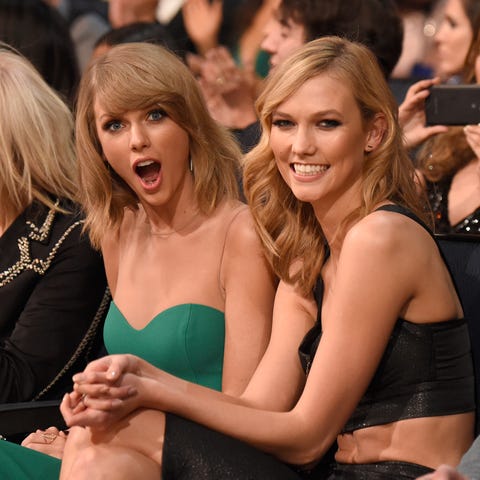 While it's unclear if Taylor was invited to this soiree, fans are speculating that something went down between Taylor and Karlie.
Taylor and Karlie used to be inseparable. Like actually though, we all remember when they walked down the Victoria Secret runway literally fawning over each other.